Accident Checklist
When you are involved in a vehicle accident, you'll most likely experience a whirlwind of emotions such as fear, frustration, anger. But the worst emotion is the helplessness you may feel when you are suddenly in a situation and don't know what to do next.
The following post-accident checklist provides you with a list of things to do and information to collect immediately after an accident.
Tip: Keep a print copy of this checklist in your vehicle so you have it when you need it.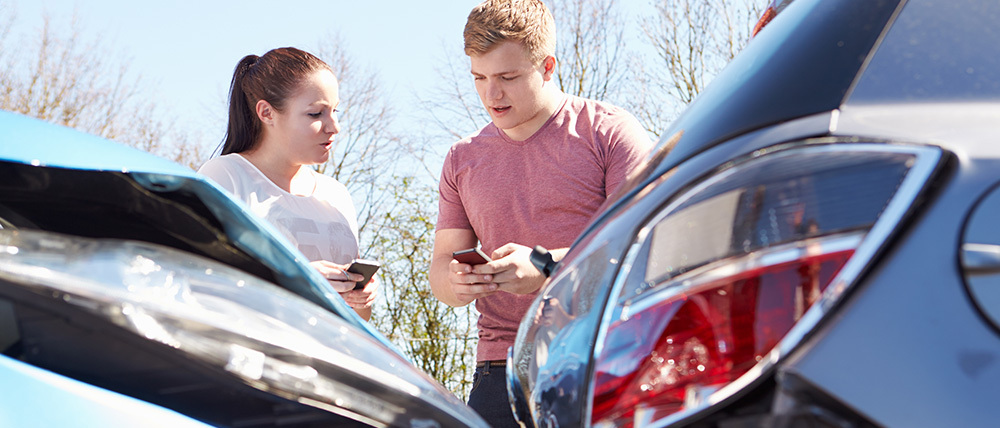 1. Stop and check for injuries.
After an accident, the first step is to always stop your car. Never drive away from the scene, no matter how minor the collision may have seemed. A hit and run is a serious offense.
If possible, pull off to the side of the road out of the way of traffic. Once you've stopped your car, immediately check to see if you or your passengers are hurt, then check on the people in the other vehicle.
2. Call for help.
Call 9-1-1 for help in any of these circumstances:
there are serious injuries
there have been fatalities
there is an unlicensed driver or unregistered vehicle
you were involved in a hit and run
you suspect the use of drugs or alcohol
If there is only damage to the vehicles, 9-1-1 does not have to be called.
3. Exchange Information.
After checking for injuries, the next thing to do is exchange information with the other driver. You will want to obtain the following information to make your insurance claim:
PERSONAL INFORMATION
full name
driver's license number
phone number
address
insurance provider
VEHICLE INFORMATION
year and make
model
colour
license plate number
ACCIDENT INFORMATION
events leading to the accident (e.g. other party ran stop sign)
damage to vehicle
injuries, if any
date and time
location of accident
direction of travel
road conditions (wet/dry; gravel/asphalt)
witnesses (if any)
Having a cell phone on hand is extremely useful in this situation. Take plenty of photos of the damage on both vehicles. It's also a good idea to take a photo of the other person's driver's license and insurance information to ensure you capture all the information correctly.
4. Call your insurance provider.
It is important to report an accident to your insurance company immediately after an accident. The sooner you make a claim, the sooner you can get the repair process started.
Get back on the road in no time, for sure, with Assured Automotive, your number one choice for collision repairs in the GTA and the Ottawa area. Our locations are recognized as insurance-preferred auto body shops with the majority of insurance companies.
Autobody shops like Assured Automotive offer a lifetime guarantee (for as long as you own your vehicle) on the work performed on your vehicle to keep you safe and secure and loving your vehicle.